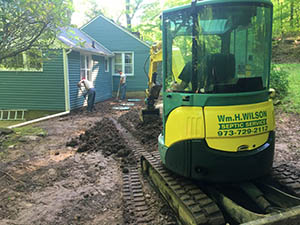 Septic Service in Wantage, NJ
If you're having problems with your septic tank, it's time to find the right company for septic tank services in Wantage, NJ. At Wilson Services, we have septic experts on staff who can get to you quickly, diagnose your problem, and come up with a solution that is specific to your tank, your home, and your family's needs.
Whether you need septic tank pumping in Wantage, NJ, or septic tank repair, we'll make an appointment for a time that's convenient for you. We'll always arrive on time, so you won't have to worry about sitting around waiting for someone to get there. We'll talk to you about what you need or the problems you're experiencing with your tank. Then we'll get started on your septic tank pumping or your septic tank repair in Wantage, NJ.
Septic Pumping
We are proud to offer you the latest technology in septic pumping in Wantage, NJ. We'll come to you fast, find your tank if you're not sure where it is, and get the pumping job started. We'll make sure that we take the right amount of waste out of your tank and that nothing gets damaged in the process. Our pumping process is fast and safe, so you and your family don't have to worry about anything. Before long, you'll be able to use your septic system as normal.
We can set up regular septic pumping if that is better for you. When you make your appointment ahead of time, you'll know when we're coming and we will get to know you and your tank. We'll get it cleaned out as often as you need it so you don't have to think about it anymore.
Septic Repair
When you need septic repair in Wantage, NJ, you need it fast. After all, there's not a lot that you can do at home when your septic system isn't working well. We'll come to you quickly and figure out where your problem originates. Once we know that, we'll be able to devise a solution that is specific to your tank and to the problems we found there. We'll communicate with you throughout the process, so you'll always know what we plan to do next and how long it will take. Pretty soon, your septic system will be back to normal.
We offer comprehensive septic services in Wantage, NJ, so there's no septic problem we won't solve for you. Call us today and find a time to meet with one of our septic experts. We'll get the job done fast so you can get back to living the life you love in Wantage!
Fixer Upper might be everyone's favorite TV show, but installing a new septic in a home over 20 years old is not the favorite task in the process. We make sure your Andover home passes those inspections — whether you're buying or selling.
Our repair technicians will quickly diagnose the problem with your septic system and advise the best solution. We're always working around Andover, so we can get to your home when you need us.
Most septic systems should be pumped every 2-3 years. We send reminder postcards and followup with phone calls when it's time, so you don't even need to think about it. Typically, filters should be cleaned every 6 months.
Contact us to get started!