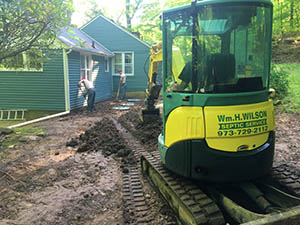 Septic Service in Vernon, NJ
So many people in and around Vernon, NJ are on septic systems but relatively few service companies have septic experts on staff. That's where we are different at Wilson Services. We have made a point to hire people who have experience working on all sorts of septic systems, and then to continue their training so they are always up-to-date on the latest technology
Septic Pumping
When you need septic pumping in Vernon, NJ, call us at Wilson. We'll locate your tank, if necessary and test your septic tank to make sure that pumping will solve your problems and is actually the right option for you. Then, we'll get to work emptying it out. We have all of the equipment and expertise to make the process go as quickly as possible. Before you know it, we'll have everything pumped out so your system can function as normal. We can even schedule regular pumping, if this is easier for you.
Septic Repair
When your septic system breaks, you need to get it fixed fast! You don't usually have time to waste because you can't do much of anything at home with a septic system that isn't working. Instead of panicking or worrying though, just call us at Wilson Services whenever you need septic repair in Vernon, NJ. We'll get to you quickly, troubleshoot the issue, and let you know what our plan is to get everything fixed for you fast. Pretty soon, your septic system will be working normally again.
Working with Wilson
We offer comprehensive septic service in Vernon, NJ, so there's no problem we won't take on and overcome for you. If you have concerns or questions, call us about your septic system today.
We also aim to give you one of the best service experiences you've ever had. From the moment you pick up the phone to speak with one of our friendly schedulers to the minute your septic expert leaves your property, we want you to know that we care. We'll take care of your buildings and land, clean up after ourselves, and explain everything so you know what's going on every step of the way.
Make your appointment with one of our experienced septic technicians today. We'll find a time that's convenient for you, then make sure we arrive on time. After that, we'll discuss the problem with you, then take a look for ourselves. After we have a solution in mind, we'll discuss it with you, then get to work so we can get your septic problems fixed fast!
Fixer Upper might be everyone's favorite TV show, but installing a new septic in a home over 20 years old is not the favorite task in the process. We make sure your Andover home passes those inspections — whether you're buying or selling.
Our repair technicians will quickly diagnose the problem with your septic system and advise the best solution. We're always working around Andover, so we can get to your home when you need us.
Most septic systems should be pumped every 2-3 years. We send reminder postcards and followup with phone calls when it's time, so you don't even need to think about it. Typically, filters should be cleaned every 6 months.
Contact us to get started!