Septic Service in Allamuchy, NJ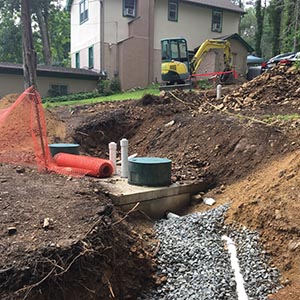 Are you having problems with your septic tank in Allamuchy, NJ? Do you need help getting your tank pumped out or fixing a problem that you've been experiencing? Don't let these things go! Septic problems often get worse unless you call in someone who is an expert to help you out.
At Wilson Services, you can contact us anytime for any septic service in Allamuchy, NJ that you need to have done. We'll send out an experienced technician quickly so you will have the peace of mind that comes from knowing your problem will be taken care of soon. Your tech will work with you to get you the right septic service in Allamuchy, NJ and to get the job completed fast.
Call today for the fast, friendly septic service you've been looking for!
Septic Repair
When you need septic repair in Allamuchy, NJ, rely on the expertise we have at Wilson Services. We can fix any septic problem, whether it's big or small. Don't let your problem get out of hand or make it hard for you to live comfortably in your home. Instead, contact us at the first sign of an issue so we can take care of it fast.
There's no septic repair in Allamuchy, NJ that we can't handle for you. Just pick up the phone, tell us what's going on, and we'll have an expert on the way soon. When your expert arrives, he or she will test each component of your septic system until they find out what is causing your problem. Then they will work with you to get you the best possible repair in a way that works well for you and your family. Before long, your septic system will be back to normal once again!
Septic Pumping
We can handle all of your septic pumping in Allamuchy, NJ, too. We'll arrive on time, set up near your tank, and pump quickly so that you won't have to sit around and wait for us all day. We use the latest pumping technology so we can get the job done as smoothly and as easily as possible. Before long, your tank will be cleaned out and ready to work well once again.
Not sure if your tank needs septic pumping in Allamuchy, NJ? Most tanks require pumping every 3-5 years, though this depends on how many people live in your house and how big your tank is. We can come out and test it for you so you'll know for sure when you need to pump next.
Working with Wilson
Call Wilson Services today for all of your septic needs. Our team will get to you fast and get your septic system back to normal fast. Make your appointment now!
Fixer Upper might be everyone's favorite TV show, but installing a new septic in a home over 20 years old is not the favorite task in the process. We make sure your Andover home passes those inspections — whether you're buying or selling.
Our repair technicians will quickly diagnose the problem with your septic system and advise the best solution. We're always working around Andover, so we can get to your home when you need us.
Most septic systems should be pumped every 2-3 years. We send reminder postcards and followup with phone calls when it's time, so you don't even need to think about it. Typically, filters should be cleaned every 6 months.
Contact us to get started!