As summer approaches, you'll be spending more time enjoying the outdoors. Make sure your deck is well lit for entertaining, eating, and relaxation. The Wilson Services' Sussex County electrical team can ensure your outdoor lighting is beautiful and functional. We will keep things bright to properly light your deck and also secure any loose or obstructive wires the protect you and your family's safety when enjoying your Sussex County property. Regardless of your deck size, there are numerous outdoor lighting options to brighten up and accentuate the space.
 Outdoor Lighting Installation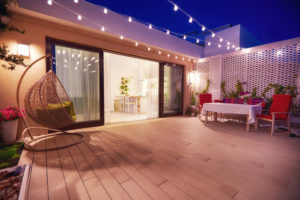 We are happy to help you with your project in setting up a well-lit deck. Our expert Sussex County electricians will make sure to direct the light just where it is needed. We offer a number of options and will ensure everything is done safely. You want to hire a professional like those on our team for electrical installation, because they will check that your outdoor connections are safe and secure. And if you need any electrical panel upgrades, that should be done by a licensed electrician.
Outdoor Lighting Repairs
Your deck lights are only enjoyable if they are working right. The good news is that we can help with repairing your outdoor lighting issues. If any of the following at happening at your place in Sussex County, give us a call:
Lights flickering or not working at all
Heat or sparks coming from your outdoor lights
Replacing light bulbs frequently
Faulty outdoor outlets
The light fixture breaking down
While your deck lighting not working can be annoying, there is also a safety risk involved. Make sure to call a professional for electrical maintenance or repairs whenever you notice an issue. We will make sure when your outdoor lighting is down, you've got a reliable partner to get it working again.
Call Us Now!
Wilson Services is here to handle all your outdoor lighting projects this summer. Give our Sussex County electricians a call to explore how we can get your deck lit up so you can maximize how much time you spend outside. Our licensed and experienced electricians are ready to assist you, so give us a call today!