When you need help with your septic system, call us at Wilson Services for Chester septic tank services. We can help you with anything and everything related to your septic system so you won't have to worry about it anymore. Reach out to us the moment you realize there's a problem so we can make everything better ASAP.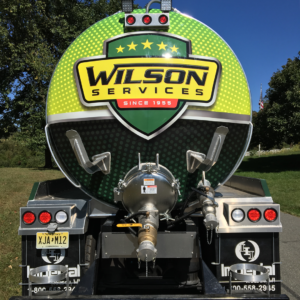 Septic Pumping in Chester, NJ
When you need to have your septic system pumped, call the experts in septic pumping in Sussex County, NJ at Wilson Services. We promise to get one of our septic pros out to you fast to pump out that liquid waste as quickly as possible. Our team will work with you to make sure we get you on the right septic pumping schedule for your tank and your needs.
Septic Cleaning Chester, NJ
Our team can also clean your septic tank in Chester. This is a more in-depth process than septic pumping because it involves removing all of the solid waste from the tank, as well as the liquid. This helps your tank to function more efficiently and can extend the life of your whole system. If your tank seems to be filling up quickly and you're not sure why, call us today and we will come evaluate it for septic cleaning.
Septic Repair Chester, NJ
We also offer a complete list of repairs for your septic tank in Chester. Our Wilson septic experts will get to you quickly and test your system until we find the problem. Once we know what is going wrong, we'll fix it for you so you won't have to worry about it anymore. We won't leave until your system is fully functional again.
Chester Septic Tank Installation
If you need to have a new Chester septic tank installation, give us a call today. We will get out to you fast, evaluate your needs, then help you choose an amazing new tank that will work with your system for years. We'll handle the installation process, too, so it's stress-free for you.
Get Chester, NJ Septic Help Today!
No matter what Chester septic tank services you need, the Wilson Services team is here for you. We will work with you to make sure you get the solutions you need ASAP. Our Sussex County septic experts will arrive quickly, work fast, and always be professional. Get on our schedule today to find out how easy it can be to get help for your septic system.