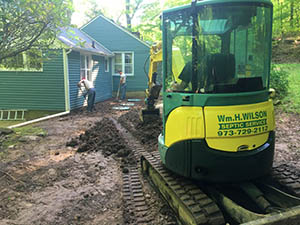 Septic Systems Lafayette, NJ
When something goes wrong with your septic tank, you need expert help fast. At Wilson Services, call us for complete septic service in Lafayette, NJ. No matter what you need to have done with your tank, we'll complete the job so you can get your plumbing back to normal. We won't rest until we have everything working for you again.
Septic Pumping Lafayette
Regular septic tank pumping in Lafayette, NJ can help keep your septic system healthy and avoid common problems. Most systems need pumping every 3-5 years, though yours may be different based on the specifics of your system. Call us whenever it needs to be pumped and we'll get the job done quickly.
Not sure if you need septic pumping in Lafayette, NJ? We'll come to your home and evaluate your needs. Once you have our professional opinion, you can decide what to do next. Whether you choose to pump now or later, knowing when it needs to be done is key to keeping your system working for a long time.
Lafayette Septic Repair
When your septic system breaks, you need professional septic repair in Lafayette, NJ fast. We'll get to you quickly, find out what you're experiencing with the system, then get to work right away. Before you know it, we'll have the problem diagnosed and we'll get to work on your repair. We'll keep working until the system functions normally once again.
We test every septic repair in Lafayette, NJ before we leave so we can ensure that your system is working the way it was designed to. We invite you to test it, too, because you will be more likely to notice if it's working differently than it was before. We won't leave until you are completely satisfied with our repairs.
Other Septic Services in Lafayette
No matter what you're looking for when it comes to septic service in Lafayette, NJ, we can help you get the job done. From septic tank installation to septic maintenance, tank location, and system testing, we'll make sure you have all the knowledge you need to make the most of your septic system and to keep it lasting for years to come.
Our septic experts would love to help you out in Lafayette, NJ. We'll make sure that your worries are gone before we leave. Our expertise and extensive knowledge of these systems will help ensure that you get the very best septic service you could possibly obtain.
Call us at Wilson Services today with all of your septic system needs. We'll have someone there soon to get your system working well again. Before you know it, your septic needs will be gone. Make your appointment with one of our skilled professionals today!
Fixer Upper might be everyone's favorite TV show, but installing a new septic in a home over 20 years old is not the favorite task in the process. We make sure your Andover home passes those inspections — whether you're buying or selling.
Our repair technicians will quickly diagnose the problem with your septic system and advise the best solution. We're always working around Andover, so we can get to your home when you need us.
Most septic systems should be pumped every 2-3 years. We send reminder postcards and followup with phone calls when it's time, so you don't even need to think about it. Typically, filters should be cleaned every 6 months.
Contact us to get started!