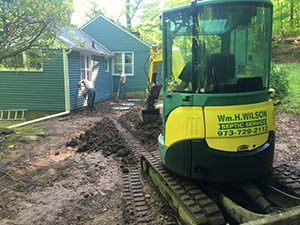 Septic Service in Hardyston, NJ
So many people in and around Hardyston, NJ have septic tanks, but it can be hard to find the right person or company to work on these. After all, you want someone who knows what they're doing, who lives locally, and who will get your job done fast and for a reasonable price. That's where we come in! At Wilson Services, we would love to help you get your septic tank working or keep it going so you'll have it for years to come.
Septic Repair
If you're looking for septic repair in Hardyston, NJ, call us today. We'll find a time that's convenient for you, then get to you on time, every time. We'll talk to you about the problems you're experiencing with your septic tank, then take a look at the tank for ourselves. As soon as we know what's wrong, we'll tell you and also tell you what we plan to do to get it back to normal functioning again.
Whenever you need septic repair in Hardyston, NJ, we'll be there for you! We'll treat your home as if it was our own so you'll never have to worry again.
Septic Service
Maintaining your septic tank can be an important part of keeping it running. We'll perform any and all septic service in Hardyston, NJ, so you can trust that your tank is in top shape. We'll do your septic pumping in Hardyston, NJ as part of this service, though we won't pump your tank unless it needs it. We will, however, check each part of your tank, testing it to make sure it's working the way the manufacturer designed it to work. If it's not, we'll get it fixed for you fast.
Septic Installation
Do you need a new septic tank in Hardyston, NJ? We can consult with you on the project, then find you a great tank and get it installed when you need it. We know that a septic tank installation is a huge commitment, so we'll make sure you get a tank and a system that should work well for you for years to come. Then, we'll perform regular septic service in Hardyston, NJ so you can keep it running, too.
Whenever you need help with a septic tank, from installation to septic pumping in Hardyston, NJ, the professionals at Wilson Services will get to you quickly, assess the situation, and come up with a plan to get things the way you need them. We'll work with you to make the process as smooth and easy as possible, so you don't worry one bit during the process. Call to make your appointment today!
Fixer Upper might be everyone's favorite TV show, but installing a new septic in a home over 20 years old is not the favorite task in the process. We make sure your Andover home passes those inspections — whether you're buying or selling.
Our repair technicians will quickly diagnose the problem with your septic system and advise the best solution. We're always working around Andover, so we can get to your home when you need us.
Most septic systems should be pumped every 2-3 years. We send reminder postcards and followup with phone calls when it's time, so you don't even need to think about it. Typically, filters should be cleaned every 6 months.
Contact us to get started!