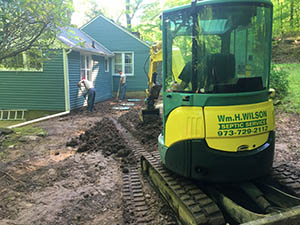 Septic Service in Frankford, NJ
If you are on a septic system, then you have come to the right place. Our technicians at Wilson Services promise to get to you fast, answer your questions, figure out how best to solve your septic issues, and get your system back up and running quickly. After all, we don't want you to have to live without your septic system for any longer than is absolutely necessary! Call us whenever you need septic service in Frankford, NJ and we'll be there ASAP!
Septic Pumping
Septic pumping in Frankford, NJ is a nasty job, but someone has to do it! At Wilson Services, we are happy to be the ones who deal with your muck so you can continue living well. We know that you need your septic pumping done just right so that your tank and system will continue working the way it was designed to.
Not sure if you need septic pumping in Frankford, NJ right now? We can come out, check your tank, and let you know! If you have just moved in and you don't have records on your septic system's service, we'll run some tests and get you the information you need to make the best possible choices for yourself and your family.
Want your septic pumping done on a schedule so you don't have to think about it? Call us today and we'll help you get that set up, too!
Septic Repair
If your septic system isn't working, then you need help fast. At Wilson Services, we are equipped to handle any septic repair in Frankford, NJ that might come up for you. In fact, we'll work hard to make sure your system gets the care it needs so that it can keep working well for you, both now and in the years to come.
When you call us for septic repair in Frankford, NJ, you'll always get an expert septic technician to work on your problem. Your tech will talk to you about the problems you're experiencing, then assess the system itself. Once the tech knows what's wrong, he or she will present you with the solution. Approve the work and we'll get started right away! Before long, you'll have the functioning septic system you need to thrive at home in Frankford.
Whenever you need septic service in Frankford, NJ, remember that you don't have to look any further than Wilson Services. We would love to help you live better and we'll do whatever it takes to make that happen. Make your appointment with one of the best septic techs today!
Fixer Upper might be everyone's favorite TV show, but installing a new septic in a home over 20 years old is not the favorite task in the process. We make sure your Andover home passes those inspections — whether you're buying or selling.
Our repair technicians will quickly diagnose the problem with your septic system and advise the best solution. We're always working around Andover, so we can get to your home when you need us.
Most septic systems should be pumped every 2-3 years. We send reminder postcards and followup with phone calls when it's time, so you don't even need to think about it. Typically, filters should be cleaned every 6 months.
Contact us to get started!