Are you struggling with your Mendham septic tank and need help? Maybe you need fast, reliable repairs or someone to look over your septic pump Mandham to figure out the problem? We offer a comprehensive range of septic services in Mendham and the surrounding area. The team at Wilson Services is here to resolve everything from minor issues to septic emergencies that cannot wait. Call us right away, and we'll get to work to get your home back to normal.
Septic Pump Mendham, NJ
Are you hearing strange gurgling sounds? Have water backing up into your shower or sinks? Smell foul odors? Get help today! Wilson Services is proud to offer trustworthy services for your septic pump in Mendham. We'll get to your home or business as soon as we can to get your tank fully pumped and get things working again. Not sure if you need septic pump assistance or have another problem? Our technicians also offer septic tank inspections in Mendham to identify the problem and get you on a regular schedule.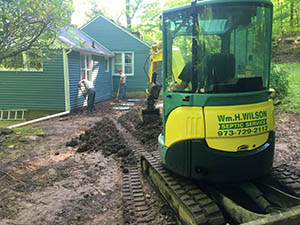 Septic Tank Cleaning in Mendham, NJ
Are you overdue for a septic tank cleaning in Mendham? Give us a call! We'll get rid of the liquid waste and as much solid waste as we can. A thorough cleaning can also help reduce future repairs and keep your plumbing in good, working order. The goal is to free up space in your tank to resolve the problems you're experiencing.
Septic Tank Inspection in Mendham, NJ
As a homeowner, it's normal to need more information about your septic system but not know how to get it or what to look for. Or if you're buying and selling a property, you need to have a thorough picture of what's going on with your septic system. We can help! Call Wilson Services today, and we'll perform a septic tank inspection in Mendham to figure out if you need repair or pumping.
Septic Repair in Mendham, NJ
There's almost nothing worse than a septic system that isn't working at all or unreliable. Maybe your toilets and drain won't flush or waste water is pooling in your yard. The problem can feel overwhelming, but we can handle it. The team at Wilson Services will figure out what's going on, talk you through the options and pricing, and get to work. Finding septic repair in Mendham can be difficult, but at Wilson Services you don't have to worry.
Call Wilson Services for Septic Tank Mendham Help Today!
Septic problems are always urgent and should be addressed as quickly as possible. Call our septic tank contractors for Mendham septic tank services, and we'll dispatch one of our licensed plumbers or technicians to get there right away. We won't rest until your septic system is working again!