When there's something going on with your Butler septic tank, you need help right away. Wilson Services offers fast, reliable service with transparent pricing. We handle everything from minor repairs and septic tank cleanings to urgent emergencies that need attention today. We're here to get your home up and running and restore the integrity of your plumbing. Call the septic experts today!
Septic Pump Butler, NJ
If you're hearing gurgling sounds, notice water backing up into your drains or toilet, or your lawn is suddenly lush and green, you probably have a septic problem. Call our septic contractors right away for help! The experts at Wilson Services offer septic pump Butler services to quickly resolve the issue. Our goal is to keep your plumbing and septic pump working effortlessly and alleviate the stress of your day.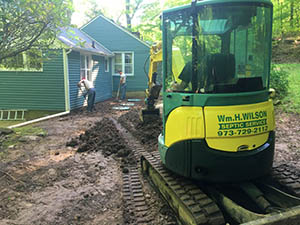 Septic Tank Cleaning in Butler, NJ
Some septic tank problems trace back to the same thing–your tank is too full. We offer prompt septic tank cleaning services in Butler to get rid of the liquid waste and as much solid waste as possible. Your plumbing should work more efficiently after a good cleaning and could prevent future repairs from a tank that's working overtime to meet your household capacity.
Septic Tank Inspection in Butler, NJ
Are you buying or selling your home and need more information about the state of your septic tank? Or are you having occasional septic tank issues and want to know more about what's going on? The team at Wilson Services offers septic tank inspections Butler to figure out what's going on and whether or not you need your tank pumped or an immediate repair.
Septic Repair in Butler, NJ
When your septic tank isn't working, you need help right away before the problem gets any worse. Maybe you have wastewater pooling into your yard or your toilets and drains aren't flushing properly? Wilson Services offers septic repair in Butler with reliable service and upfront pricing. Our goal is to restore your plumbing and peace of mind so you can get back to the rest of your day.
Call Wilson Services for Septic Tank Services in Butler!
Septic problems can't wait! Get the help you need right away to get your home back to working order. Call Wilson Services today for Butler septic tank services, and we'll dispatch one of our licensed plumbers or technicians. We won't rest until your septic system is working again!