If you've never used a septic system before, you may be new to the concept of septic tank cleaning in Sussex County. This process may seem unnecessary, but it's actually how the system was designed to work. If it doesn't get cleaned every so often, it won't work as well for you, both now and in the future.
The Top Reasons to Call for Septic Cleaning
If you're on the fence about septic cleaning in Sussex County, here are a few of the reasons why we recommend it.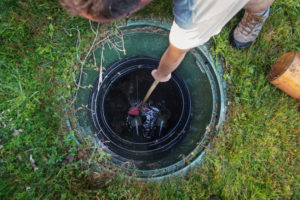 Keep your septic system running well. Your septic system was not designed to hold a large amount of sludge for a long time. Clean the sludge out of your system so it doesn't have to carry that extra burden.
Resolve septic system problems. Some septic system problems, like drainfield issues, can resolve themselves once the tank gets cleaned out. There might be too much sludge in the tank or the tank might be too full, overall.
Keep repair costs low. A septic system carrying the burden of extra sludge will be more likely to break down, and septic repairs aren't cheap. Calling for a septic tank cleaning in Sussex County today could save you on repair costs later.
Extend the life of your septic system. Similarly, septic systems that have to work extra hard due to an overabundance of sludge are more likely to need more frequent septic replacement. Save on this huge cost when you call for septic tank cleaning regularly, instead.
Call Wilson Services for Septic Cleaning in Sussex County Today
When you contact us for a septic tank cleaning in Sussex County, we'll send one of our septic professionals to your home soon. Your pro will assess your tank and your system to make sure that cleaning is a good option for you right now. If septic cleaning in Sussex County will benefit your system, we'll get started as soon as possible.
We'll remove all of the fluid from your tank, then get the sludge out of the bottom, too. If you have dried, hardened sludge that is causing problems with your septic system, we'll use techniques like hydro jetting to loosen that sludge and remove it, too. In short, we won't stop until your septic tank is completely cleaned out. Once it's clean, we'll set you up for success. We'll make sure that the biome of the tank is healthy and ready to start processing waste once again. Call us at Wilson Services today, or whenever you need professional septic cleaning in Sussex County!