If your generator isn't working, you won't have power you can rely on if something happens in or around your home. Since generators are designed to give you peace of mind, call us at Wilson Services right away for generator repair in Sussex County to get yours working again soon!
Not sure if you need an electrician in Sussex County, NJ to help with your generator? Here are some things you can look for:
Your Power Flow is Down
You should turn on your generator regularly to test it. If you do this and the power flow is not where it should be, it's time to call for a repair. You may even need a generator replacement in Sussex County.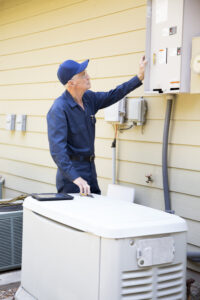 Your Generator Leaks ANY Fluid
Generators can leak a variety of fluids, including oil, coolant, and gas. If yours is leaking, don't turn it on! It can be dangerous to run a generator that's leaking. Instead, call us for generator repair in Sussex County right away.
Your Generator Struggles Or Won't Start
If your generator won't turn on or you have to work hard to get it to do so, call our electrician in Sussex County. We'll find the cause of the issue and fix that generator fast!
You See Signs of Electrical Wear and Tear
If you can look at your generator and see worn wires, cords, or cables; damaged or missing control buttons or knobs; or loose connections, your generator needs service before it gets used again! Don't turn it on as these issues could cause problems.
Your Generator Has Body Damage
If something has fallen on your generator or it has been hit by a vehicle or something else that's large and heavy, check it before you use it again. If it has major body damage, get it checked by an electrician before you try to turn it on. Damage inside the housing may be unseen but it can still make the generator dangerous.
The Generator Battery Won't Hold a Charge
If your generator has a battery and that battery won't hold a charge or seems to only hold a low charge, call our Sussex County electricians right away. We'll help you find the source of the problem and either repair or replace the battery.
Call Wilson Services for Generator Services in Sussex County, NJ!
At Wilson Services, we are here for all of your needs for generator repair and generator replacement in Sussex County, NJ. We'll help you find the solutions you need so you'll always have reliable power and the peace of mind that comes with it. Call us today!