Are you considering investing in a whole-home generator in Sussex County, NJ for your property, but you're not sure if that's the right option for you? Have you been looking into it but you want to get detailed information from a professional electrician? Then you've come to the right place! At Wilson Services, we can talk with you about why a generator may be a good choice for your property. Here of some of the reasons that we give our customers…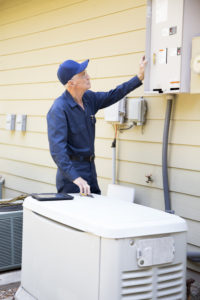 Benefits of Whole-Home Generator Installation
Not sure if whole-home generator installation is the right for your place in Sussex County, NJ? Here are just a few reasons why you might want to get one:
Safety and security no matter what the weather brings. Even if the power goes out for the whole city, your generator will keep you and your family powered up.
Protect your home from voltage fluctuations and surges. Your new generator will make sure that your appliances aren't damaged even if the power comes back on with a massive surge.
Keep your AC on no matter what. Don't overheat at home but let your generator power your AC as long as you need it running.
How To Have A Generator Installed
When you need whole-home generator installation, contact us at Wilson Services right away. We'll get an expert Sussex County electrician to your home ASAP to get you the generator you need and want. Then we'll install it and test it to make sure everything is working well and that you have adequate supply to backup power.
Call Us Now For Generator Service!
When it comes to whole-home generators, there isn't another team you want on the job…we guarantee it. Already have a generator? Our expert technicians can provide regular maintenance, handle any generator repairs, or even replace your old one. Call Wilson Services today to learn more about how whole-home generator could benefit you, or for any Sussex County generator service you may need!