Roll Off Dumpster Rental Byram, NJ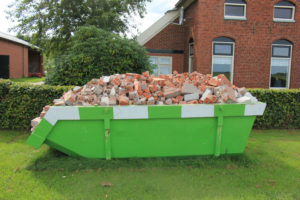 Here at Wilson Services, we offer roll off dumpster rentals in Byram, NJ that are great for any kind of event or occasion where a generous amount of waste will be generated. Our inventory of containers comes in a few different sizes, so no matter what your needs or situation in Bryam, we are sure to be able to help you out. We handle the logistics of everything and make roll off dumpster service in Byram, NJ an easy process, so call us when you need one!
Roll Off Dumpster Service
We have roll off dumpsters for just about anything you need to throw out and any amount of trash. Whether you need roll off dumpster service in Byram, NJ for a large event like a fair, festival, market, party, concert or sporting event, or for a space where waste is generated, like a park, construction site, shopping center, our team will get you equipped with roll off dumpsters sized to fit your needs. Just let us know your situation, how many you need, and where in Bryam you want them dropped off and picked up at.
Our Roll Off Dumpster Sizes
Our inventory of dumpsters in Byram consists of five different roll off dumpster sizes, so there is sure to be something suitable for your needs. You can choose between roll off dumpsters that are 8-yards, 10-yards, 20-yards, 30-yards, and 40-yards, so you don't have to worry about getting stuck with something too big or too small, or overpaying.
Roll Off Dumpster Rental in Byram
Reach out to Wilson Services to learn more about our roll off services in Byram, NJ. We offer flexible rental periods, have various bin sizes, and drop them off and pick them up on time. Our waste disposal experts are here to help handle everything for you, so place a call to our team when you need roll off dumpsters in Byram, NJ.
Contact us to get started!