Roll Off Dumpster Rental Andover, NJ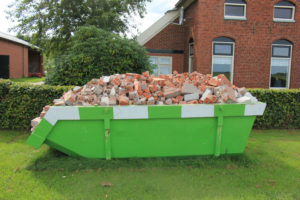 Wilson Services offers roll off dumpster rental in the Andover area. Our services are designed to make trash disposal easy for our clients, because we handle everything else. Let us know when you require roll off dumpsters, how many, and what size, and we will make sure they are dropped off on time, emptied as needed, and hauled away when you're done. Contact us to speak with a representative about having us handle your needs.
How Roll Off Dumpster Service Works
There are all sorts of reasons that people need temporary trash bins. Property owners, event organizers, and many others in Andover count on us to provide them with roll off dumpster service for different situations, but they all receive the same excellent service. Our team will work with you to determine what is the correct roll off dumpster size for the trash you plan to generate and how many bins are needed, and then we will make sure to have them dropped off and picked up on schedule. All you have to do is throw things away, and we will handle the rest!
Roll Off Dumpster Sizes
Our inventory consists of five sizes of roll off dumpsters, and we can offer you something that is suitable for your waste and disposal needs. We have 8-yard bins, 10-yard bins, 20-yard bins, 30-yard bins, and 40-yard bins, so you do not need to worry about getting dumpsters that are too small or too big. Our roll off service staff will ensure you outfit you with containers that are just right for what you're doing in Andover, so you are not overpaying or find yourself underprepared.
Andover's Roll Off Service
Get in contact with the team at Wilson Services to schedule a time for us to drop off roll off dumpsters at your property in the Sparta area. We show up on time, bring exactly what you need, and then come back when they are full to handle the transportation and disposal of it. Ask us about our dumpster sizes and our flexible rental periods!
Contact us to get started!