Electrical Services in
Hardyston

, NJ

Are you looking for an "electrician near me in Hardyston, NJ" but you're not sure who you can trust? At Wilson Services, we hire experienced electricians, then we keep their skills up-to-date with more training. Call us today or whenever you need an electrician in Hardyston. We'll get to you fast, figure out exactly what you need, and get your electrical system working well again soon. Our team won't stop until you are completely satisfied with the work we've done!
Electrical Repairs
Every electrical repair in Hardyston is different, but we've done so many of them that we'll be able to figure out what you need, no problem! Our team will talk to you about what has been going on, then work with you to get the best possible fix for your electrical system in place ASAP. We'll fix anything that is broken when it comes to your electrical system, including:
Electric panel repair
Generator repair
Light switch repair
Ceiling fan repair
Electrical outlet repair
Wiring repair
Don't hesitate to call us anytime you need an electrical repair in Hardyston!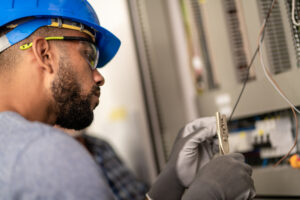 Electrical Installations
Whether you need a new circuit for your new spa or you're putting in new lights, our electricians will work with you to make sure your home functions the way you need it to. It doesn't matter what it takes, because we will stay until your electrical installation is complete. We'll install anything you need to have installed that's related to your electrical system, including:
Electric panel upgrade
Generator installation
Lighting installation
Light switch installation
Ceiling fan installation
Electrical outlet installation
New circuit installation
Hot tub/spa installation
Reach out today and your electrician in Hardyston will get your electrical installation completed soon!
Electrical Maintenance
Whether you need us to test your electrical system to find a problem or you want certification that it is working properly, your electrician will get the job done fast. Reach out to us today to get the peace of mind you need when it comes to how well your electricity is working and whether it is safe to be in your home or business. If we find any problems, we'll arrange with you to get the repair completed as soon as possible.
Your Electrical Service Company in Hardyston, NJ
Rely on your electrician in Hardyston, NJ today! Don't put off calling us, because many electrical issues will only get worse or, at least, more annoying. We'll get to you fast and get your electricity working well, so you can feel safe and secure at home again soon. Give us at Wilson Services a call today to make your appointment with one of our experienced Hardyston, NJ electricians.
Contact us to get started!