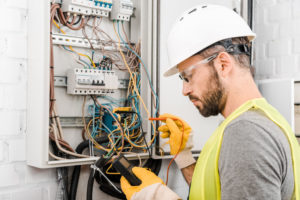 Wilson Services is proud to announce that we have expanded our helpful septic services to include electrical services! Our team is comprised of skilled and certified electricians who are dedicated to making sure you stay connected to power at your property in Sussex County, NJ. For details on how we can assist you, reach out to our team today!
Electrical Repair Services
If you need electrical repairs, our staff can come out and get things fixed and working again in no time at all. We can assist you with lights and outlets that are malfunctioning, a fuse that is blown, a tripped circuit breaker, or anything else. With our team of experts on the job, you can feel confident things will be repaired as soon as possible.
Electrical Installation Services
Those who are looking to have something installed that involves the electrical system can turn to us for help. Our experts can install ceiling fans, carbon monoxide detectors, lighting, outlets, generators and more! We work carefully and with skill and precision to make sure all jobs are handled safely.
Expert Electricians in Sussex County, NJ
Since 1955, our family-owned business has been coming to the aid of Sussex County property owners for a variety of septic needs and issues. Now, you can also count on us for help with electrical services of any kind. Our staff is here to assist you with everything, so reach out to us today!