Did you know that you can't throw just anything in a roll off dumpster rental in Sussex County? It's true!
While Sussex County dumpster rentals are perfect for many types of projects at home and at your business, there are a few things you need to dispose of elsewhere. Here's what you can't throw away in our dumpsters!
Hazardous Waste
Hazardous waste needs to be disposed of properly, based on the type of waste it is. Your dumpster rental in Sussex County is not the right place for: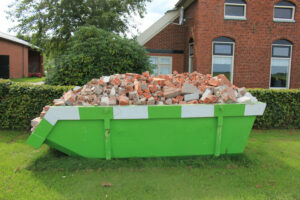 ● Anything ignitable, like nail polish removal or matches
● Flammable waste, like motor oil or kerosene
● Corrosive substances, like bleach or automotive batteries
● Toxic waste, including any medications and pesticides
● Biohazards, like needles or animal waste
● Reactive waste (things that might explode under normal pressure), like oxygen tanks, fertilizer, or ammunition)
Other Waste
In addition to hazardous waste, there are some other items that you should not throw in your dumpster rental in Sussex County. These items include:
● Fluorescent light bulbs
● Adhesives, including both epoxy and glue
● Freon, and appliances that contain it (like some refrigerators, freezers, and air conditioners)
● Food waste (because it attracts pests to the dumpster)
● Car batteries
● Lithium batteries
● Inks (such as printer ink)
● Resins
● Hot water heater tanks
● Household cleansers and cleaners (empty containers are acceptable as long as they are empty and have been scrubbed out)
● Paint (including household pain, wood stains, and lacquers)
● Tires of any sort
● Wood treated with preservatives, like telephone poles or railroad ties (this may also include some fence posts)
● Anything having to do with oil, fuel, or propane (including tanks, etc.)
If you need to dispose of these, don't use a roll off dumpster rental in Sussex County. Instead, call your municipal offices to find out how to properly dispose of the items.
Call for Dumpster Rental  in Sussex County
When you need Sussex County dumpster rentals to dispose of items other than the ones listed above, call us at Wilson Services. We'll help you find the best-sized dumpster for your project, then deliver it for you and empty it when you're done.